Summer camps? No, thanks! I prefer art!
From June 11 to 29 and September 3 to 14 2018: we offer exciting activity weeks with painting, clay modelling, varied materials craft, getting covered with paint and mud, trips to museums and unknown spots of our town, running and playing in the park, reading. Groups of up to 25 children, from 6 to 12 years old, under the guidance of artists and youth experts.
Located at the DIsegnoINsegno Studio.
Duration: from Monday to Thursday from 8.30 to 16.30 – Friday: 8.30 to 14.00
Price per week: 131€ (meals, bus and museums tickets not included)
Lunch: 7,00€ for meal or packed lunch from home
From Monday 11 to Friday 29 June and from Monday 3 to Friday 14 September 2018:
For further information, please contact Sabrina Kaulard: info.disegnoinsegno@gmail.com – Phone: 329 2024204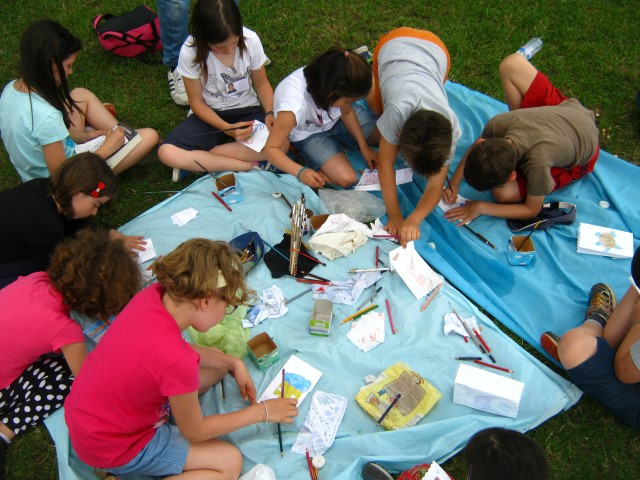 SUMMER CAMPS PROGRAM 2018
Week from 11 to 15 June: Paper, colours and painting techniques
We will make paper and colours and learn the painting techniques with pencils, watercolour, tempera and oil painting following the example of the great Art Masters.
Week from 18 to 22 June: Impressionism, colours of plant origin and frames
We will make colours of plant origin and will create drawings and paintings, following the Impressionists' technique and their colour combinations, which will be then completed with frames built by the children.
Week from 25 to 29 June: Human and animal shapes
We will learn how to draw, paint and model human shapes and animals according to the great painters' and cartoonists' example and methods applying drawing, painting, clay and papier-mâché techniques.
Week from 3 to 7 September: Contemporary Art - Mixed techniques
We aim to create artworks applying various art techniques and using materials sometimes mixed together. Every artefact can, skilfully realised, become an artwork. All you need is painting, drawing, modelling and creativity.
Week from 10 to 14 September: Clay, what a passion!
A week dedicated to clay modelling without neglecting the drawing which is essential for focusing on ideas and realising your projects. Vases, shapes, animals, houses and imaginary constructions will arise with colourful shapes while having fun together.